If you haven't read part 1 yet, you probably should. Although I can't think of a reason why.
Third Game Played: Island of Mystery Adventure
This game has alot of text, and for the barely literate like our friend C-Rad from CnJ's, this game was pure hell. It's not known were this game came from and why it's on my hard drive, but one might speculate that it's origins are from before the time of colour and pictures.
Here's the jist of the game. You're stranded on an island of mystery and quite possibly adventure, but I have yet to find any ot these things. You have to get off the island before the approaching and very deadly (presumably) Tsunami reaches the island. You are allowed 500 turns and then you die.
Here's my strategy, and don't any of you steal it! Don't move. You don't lose, but you don't win either. It's what I like to call the "happy medium".
I also figured out a cheat for this game. If you type QUIT the game seems to exit. I can only assume that this is because QUIT is the win-the-game cheat. Once I win, the game has no reason to run anymore and thusly (doubt that's a word) exits.
Fourth Game Player: Round 42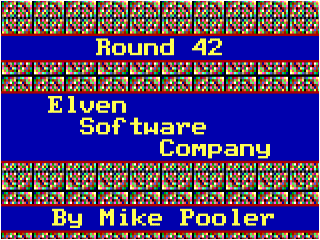 A galactic invader in search of sandwiches and love.
Now this game, on the other hand, has pictures and colours. Some of the best I've seen on the Tandy 1000.
The premise of this game is to blow stuff up. Story? Who the hell cares, this game kicks ass! Consisting of 42 levels of pure arcade shooter enjoyment. Each level you're up against a new type of enemy possibly trying to steal your sandwich. Who knows? There's no story!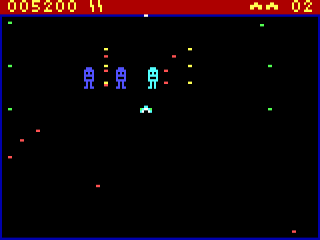 To fight off these invading umm... invaders, you've got two weapons in your arsenal. You've got your standard kick ass blaster cannon type thing, and then you've got your kick-motherfucking-ass, auto-targeting lightning bolts FROM HELL thing! You've only got a few of these lightning bolts though, so use them wisely.
Every fifth level or so you've got to navigate your ship through some sort "wanted to be a maze but never mastered dead ends" thing without hitting the walls. Sounds easy, sure, but if it's your first time and you don't know what you're doing, and you're suffering from some sort of autism, you're heading straight into that wall.
The sounds? Let's just say if the sounds were sex, I'd be having 24 orgasms per minute. What this game makes a PC speaker do is nothing short of phenomenal. But don't take my word for it, try it yourself! (and get a towel)
SUPER DOWNLOADS OF GREAT FUN!
Island of Mystery Adventure 49KB
Round fricken 42!!! 26KB
The End?